Hybrid Courses and RTC (Remote Training Centers)
A grant of 1.1 million Euro assigned to ESGM in 2002 by the European Commission through the EUMEDIS (EuroMediterranean Information Society) stimulated the development not only of a Euro-Mediterranean network for medical genetics, but also of a program of distance learning launched in May 2005. As a result of this grant, starting in 2005 several ESGM courses have been offered each year via Internet to medical professionals and researchers who are unable to travel to the Main Training Center located in Bertinoro (link CeUB)
While a course is taking place at the CeUB in Bertinoro, the same is webcast live to the Remote Training Centers located in hospitals, clinics, Universities, research institutes all over Europe, the Mediterranean region and the Middle East and even in more distant parts of the world.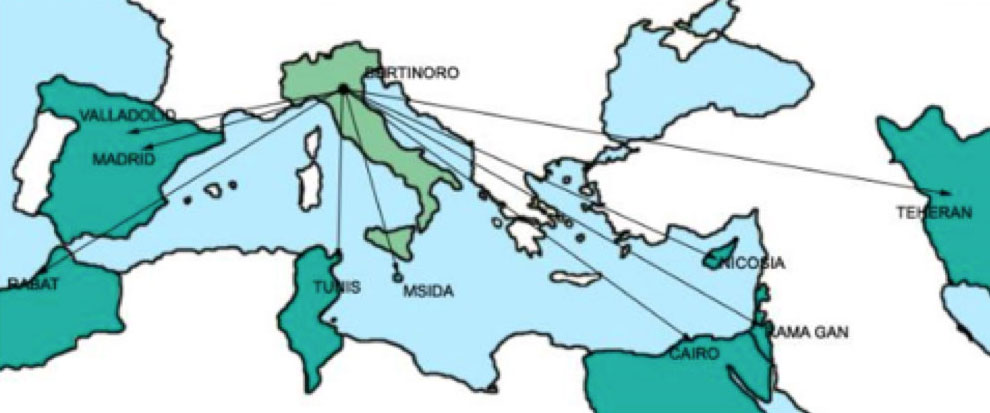 Hybrid Courses - The network of Remote Training Centers in 2005
MTC - Main Training Center: Bertinoro (Italy)
RTC - Remote Training Centers: Valladolid (Spain), Madrid (Spain), Rabat (Morocco), Tunis (Tunisia), Msida (Malta), Cairo (Egypt), Nicosia (Cyprus), Rama-Gan (Israel), Teheran (Iran)
Some (not all) ESGM courses can therefore be followed live by Remote Training Centers and discussion sessions and workshops are organized by local RTC. In order to promote interactive learning in RTC, student questions are skyped or e-mailed to the Main Training Center and the answers of Faculty are discussed and diffused by webcasting from Bertinoro at the end of each session.
The numbers of students who attend these Hybrid Courses and their professional profiles is the best proof of the success of these ESGM Online Courses in the RTC located all around the world. An example of the success of the ESGM Online Courses is given by the last course in Medical Genetics directed by Victor A. McKusick in 2007 which was attended by 104 students from 28 countries present in Bertinoro but was followed live via Internet by 158 students in Remote Training Centres around the world.